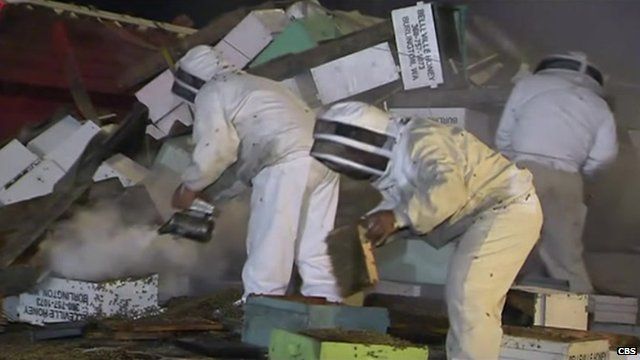 Video
Lorry full of honey bees overturns in Washington State
A lorry carrying honeybees has overturned in the US state of Washington, spewing bees across a motorway.
The accident scattered boxes "containing millions of live bees across the highway", KIRO 7 News reported.
The local television station said the truck overturned around 3:30 local time (10:30 GMT) near the city of Lynnwood, when the truck attempted to enter an interstate motorway.
Each of the boxes contains about 5,000 live bees, some were crushed in the accident while others were freed.
Beekeepers used smoke to try and calm the bees before the sun rose, which would raise temperatures and agitate the bees.
At daybreak many of the boxes remained on the road and the bees became more active. The fire brigade was called to spray the bees with foam, which resulted in their death.
The driver of the lorry was not hurt, and officials are waiting for the insects to be contained before they tow the truck away.
Go to next video: When bees swarm, 'who you gonna call?'