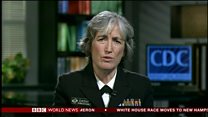 Video
CDC says Zika case in Texas was sexually transmitted
CDC Deputy Principal Director Doctor Anne Schuchat has told the BBC's Katty Kay that a patient infected with Zika in Dallas, Texas, is likely to have been infected by sexual contact, not a mosquito.
Speaking exclusively on BBC World News America, Dr Schuchat said "The evidence that we have right now points to that, there is no evidence of a mosquito problem in the area," she says. "We do believe it was spread through a sexual contact."
The person had not travelled to infected areas but their partner had returned from Venezuela.
More on the story: Zika virus infection 'through sex' reported in US
Go to next video: Timeline: How Zika virus took hold