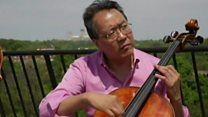 Video
Yo-Yo Ma's musical mission for peace
Yo-Yo Ma is by far the world's best known cellist, but he's also made it his mission to bring about peaceful change through music.
For years he's been bringing together artists from around the world to play in the Silk Road Ensemble - creating an international dialogue with instruments. Their journeys are now being told in a new documentary called The Music of Strangers.
Jane O'Brien caught up with Yo-Yo Ma and some ensemble members in Washington DC, for a special performance.
Filmed by Pete Murtaugh & Olivia Lace-Evans.
Edited by Bill McKenna.
Produced By Sarah McHaney.
Go to next video: Lightsabers and life lessons