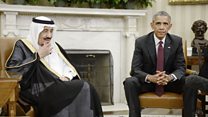 Video
US and Saudi Arabia: A rattled relationship
It's nearly 15 years since Saudi hijackers flew planes into the Pentagon and World Trade Center. But questions remain about whether they had any help from the Saudi government.
This is despite the fact that Riyadh now presents itself as an ally against Islamist extremism - it strongly condemned the mass shooting at a gay nightclub in Orlando carried out by an apparent IS sympathiser.
Still, there are continued concerns about the Kingdom's austere version of Islam and its possible links to violence, raised again by Hillary Clinton after the Orlando massacre, who called for the Saudis to prevent their citizens from funding extremist organisations.
And Congress is considering new legislation that would make it possible to sue Riyadh for possible involvement in 9/11.
This has increased the strain on a crucial, but complex alliance, as Barbara Plett Usher reports.
Produced by Suzanne Kianpour; Edited by Olivia Lace-Evans
Go to next video: No oil jobs in an oil-rich Kingdom