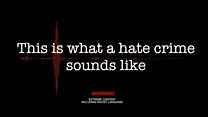 Video
What a hate crime sounds like
America is experiencing a spike in hate attacks and harassment. According to the Southern Poverty Law Center, there have been more than 800 incidents motivated by hate in the country since the US election on 8 November. Read the full story here.
The husband and wife in this recording, who have not been identified for their own safety, received this anonymous voicemail while at home during the campaign in August 2016. Both are American citizens. Both practice the Islamic faith. One is of Somali origin.
This incident was reported to the Federal Bureau of Investigation at the time.
Video by Charlie Northcott
Go to next video: Muslim students on a Trump presidency