Media player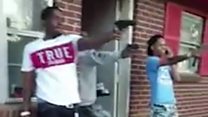 Media playback is unsupported on your device
Video
Mannequin challenge of gunfight misfires
Police have arrested two people on gun and drug related charges following a mannequin challenge video that went viral.
The footage was filmed in Huntsville, Alabama, and features 22 young people posing with 19 guns in a frozen gunfight.
Police were alerted to the video shortly after it was posted on Facebook on 9 November and a raid of the house where it was filmed found multiple guns, ammunition, a tactical vest and several bags of marijuana.
Police are still investigating.