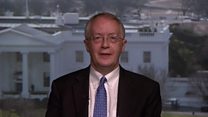 Video
Myron Ebell: Paris Agreement 'a dead end'
Myron Ebell, who headed Donald Trump's transition team on environmental policy has told BBC Hardtalk's Stephen Sackur the Paris Climate Agreement to limit global carbon emissions are a "dead end".
"I think that the commitments made there are largely on paper and not real. I think every country that wants to have a growing and prosperous economy finds out that these kinds of commitments are a huge obstacle to maintaining economic growth," he said.
Mr Ebell is well known for his opposition to the scientific consensus on climate change.
President Trump would lead the US and the world to a "brighter future" with less reliance on renewable energy, he said.
Watch the full interview on Thursday 9 February 2017 on BBC World News and the BBC News Channel or watch again on BBC iPlayer (UK only)
Go to next video: Trump will commit to Nato, says Stoltenberg