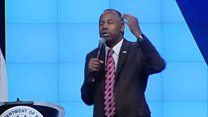 Video
US housing boss Ben Carson calls US slaves 'immigrants'
Ben Carson, the secretary of housing and urban development, has compared slaves to immigrants, on his first day in his new job.
In a 40-minute speech to staff, he praised immigrants who worked long hours to build a better future for their children.
"That's what America is about. A land of dreams and opportunity," he told staff. "There were other immigrants who came here in the bottom of slave ships, worked even longer, even harder for less. But they, too, had a dream."
After criticism that he was being insensitive, Mr Carson later tweeted: "You can be an involuntary immigrant."
Go to next video: How China's communists view Trump