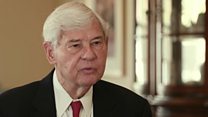 Video
Calls for Congressional inquiry into Russian hacking claims
A bipartisan Congressional inquiry should be launched to investigate allegations that Russia interfered in the 2016 US presidential election, former US Senator Bob Graham has told BBC Hardtalk.
"If we don't show to the Russians that we take this very seriously, that an attack against the fundamental essence of our democracy is totally unacceptable, then I think they are going to hear a message of immunity," he told Zeinab Badawi.
Kremlin spokesman Dmitry Peskov has said previously that Russia "categorically denied that Moscow had been involved in any hacking attacks".
Mr Graham has previously co-chaired an inquiry into the 9/11 attacks and was the chair of the Senate Intelligence Committee.
You can see the interview in full on Wednesday 15 March on BBC World News and the BBC News Channel and after on BBC iPlayer (UK only).
Go to next video: Putin spokesman denies US election hack