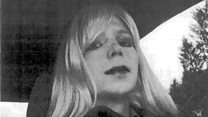 Video
Chelsea Manning 'will complete transition out of prison'
Chelsea Manning is "very pleased" that she will be free to complete her transition out of prison, her lawyer Nancy Hollander has said.
Manning was given transition hormones in jail but was not allowed to grow her hair, Ms Hollander told the BBC's Victoria Derbyshire programme.
However, exactly what happens next is a decision for the transgender US army private, born Bradley Manning, and her doctors after her release, Ms Hollander added.
Manning is due to be freed on Wednesday, 17 May, after former President Barack Obama commuted her sentence.
She had been scheduled for release in 2045, after receiving a 35-year sentence for her role in leaking diplomatic cables to Wikileaks.
Watch the Victoria Derbyshire programme on weekdays between 09:00 and 11:00 BST on BBC Two and the BBC News channel.
Go to next video: Who is Chelsea Manning?