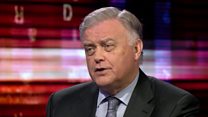 Video
Vladimir Yakunin: Present hacking evidence to the public
The businessman and former president of Russian Railways says he does not accept allegations from James Comey over Russian hacking of the US election.
Vladimir Yakunin told Hardtalk's Stephen Sackur: "I did not see any solid evidence, why should I believe the FBI former director that he had obvious evidence. Why was it not presented to the general public?".
Mr Comey recently told the US Senate Intelligence Committee: "There should be no fuzz in this whatsoever. The Russians interfered in the election."
Russia's President Vladimir Putin has repeatedly denied these allegations and US President Trump has accused the Democrats of making up and pushing the story as an excuse for running their terrible election campaign.
You can see the interview in full on Monday 19 June on BBC World News and the BBC News Channel and after on BBC iPlayer (UK only)
Go to next video: Comey's most revealing moments