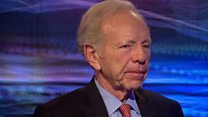 Video
Lieberman: Democrats' 'mindless resistance' to Trump
The US Democratic Party is involved in a "mindless resistance" to President Trump, the former senator Joe Lieberman has told BBC Hardtalk.
Mr Lieberman, who supported Hillary Clinton's candidacy in the 2016 presidential elections, said that while the Democrats have a responsibility to oppose President Donald Trump if they have a policy reason, there should be efforts to negotiate with the Republican Party on issues such as tax reform and healthcare if they "want to get something done".
Mr Lieberman was the senator for Connecticut from 1989 to 2013 as a Democrat and then an independent candidate.
Watch the full interview on Friday 30 June and Saturday 1 July 2017 on BBC World News and watch again on BBC iPlayer (UK only).
Go to next video: Bernie Sanders: 'The momentum is with us'