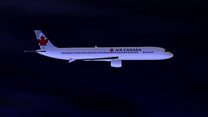 Video
Plane near-miss audio released
Communications between Air Canada flight AC759 and San Francisco air traffic control have been released.
The plane came within 30m (98ft) of other aircraft as it prepared to land in a near-miss on 7 July.
The audio reveals that air traffic control cleared the pilot to land on runway 28-R. However, the pilot began descending onto Taxiway-C, where four planes were waiting to take off.
The pilot of one of those aircraft can be heard asking air traffic control, "Where's this guy going?".
An investigation into the incident by the US Federal Aviation Administration (FAA) is ongoing.
Go to next video: Drone near-miss 'could have been fatal'