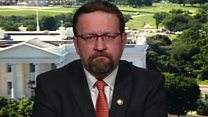 Video
Sebastian Gorka: I trust Trump on Russia probe
President Trump's deputy assistant Sebastian Gorka has said "there is nothing there" as investigations continue into alleged Russian interference in the 2016 US election.
In May this year the former FBI director Robert Mueller was appointed special counsel to investigate Russian interference in last year's election. Separate investigations are also being carried out by the Senate and House of Representatives.
The Kremlin has denied any interference and President Trump has repeatedly denied any collusion with Russia.
Mr Gorka told Hardtalk's Stephen Sackur: "I know what the President of the United States told me and that is enough for me because I trust that man."
The interview was recorded on Monday 31 July 2017.
Trump 'dictated' son's statement on Russian lawyer meeting
You can see the interview in full on Tuesday 1 August 2017 on BBC World News and the BBC News Channel and after on BBC iPlayer (UK only)
Go to next video: 'There was nothing to tell'