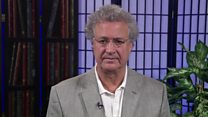 Video
Richard Cohen: Exposing the 'haters in business suits'
The groups that "spew racism" in the mainstream can be "more dangerous perhaps than the skinhead group that everyone recognises as something marginal," the Southern Poverty Law Center (SPLC) president, Richard Cohen, has said.
"It is always easy to tell the haters if they are wearing swastikas or are in white sheets," he told BBC Hardtalk's Stephen Sackur, "it is harder to recognise the haters who are in business suits, that's why we think it is so important to point out when we see them," he added.
The Alabama-based advocacy organisation SPLC monitors extremism across the US. It says there are currently more than 900 active hate groups throughout the US.
'I fear my neighbour' - the story behind US hate crimes
Watch the full interview on BBC World News and the BBC News Channel on Thursday 24 August 2017 and on BBC iPlayer (UK only)