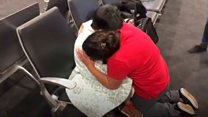 Video
Migrant children: Mum and seven-year-old reunited
After weeks apart, a mum has been reunited with her seven-year-old boy at Baltimore airport in the US.
Beata Mariana Mejia Mejia and her son Darwin were separated as part of the "zero-tolerance" policy, which President Trump has since reversed.
They crossed the US border in May and attempted to seek asylum after Ms Mejia said she had fled violence in Guatemala. But on arrival, Ms Mejia was taken into custody and Darwin was sent to a detention centre in Arizona.
She plans to sue the US government, saying the separation violated her rights.
Go to next video: The sound of migrant children separated from parents