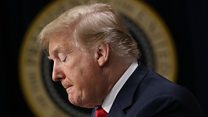 Video
Can the Bible be used to defend the US government?
Listen to two theologians debate about the use of the Bible to claim that President Trump and his administration have been 'ordained' by God.
Pastor Mark Burns and Dr Tara Isabella Burton discuss the use of Romans 13:1, as cited by US Attorney General Jeff Sessions last month in a speech defending the Trump administration's policy of separating families trying to enter the US illegally at the Mexican border.
Sessions advised his listeners to "obey the laws of the government because God has ordained them for his purposes."
It prompted a debate about who exactly owns the biblical word in a country that constitutionally separates church and state; a country that for many holds Christianity - especially evangelical Protestantism - at the heart of its identity.
You can listen to the World Service's Heart and Soul programme about the Bible, government and immigration in the US here.
Producer: Sophia Smith Galer
Go to next video: The women sticking with Trump