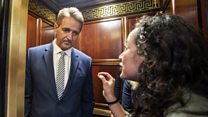 Video
Kavanaugh: The woman behind that 'elevator pitch' to Jeff Flake
Anna Maria Archilla, one of the women who confronted Senator Flake before his vote on Judge Kavanaugh's nomination to the Supreme Court, spoke to the BBC's Newsnight about what pushed her to come forward.
It may have been this incident which caused Arizona Republican Jeff Flake to insist on an FBI investigation of Brett Kavanaugh.
As a result, a full Senate vote on Judge Kavanaugh's confirmation has been delayed for up to a week.
Ms Archilla described her speech to Flake as an 'outpouring of frustration and rage, and sadness and anger'.
Go to next video: Emotional testimonies by Kavanaugh and Ford