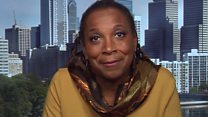 Video
Prof Crenshaw: Politics of patriarchy are at play in the US
Men and women in the US are treated differently when it comes to allegations of sexual harassment and assault, the lawyer and civil rights campaigner Prof Kimberle Crenshaw has said.
Reflecting on the recent US hearing ahead of the appointment of Judge Brett Kavanaugh to the Supreme Court and the allegations made by Dr Christine Blasey Ford, which Judge Kavanaugh denied, Prof Crenshaw told BBC Hardtalk the "politics of patriarchy" are at play and men are allowed to show their anger in a way that women are not.
"One of the things that could be the silver lining from what happened in the hearings, it's fairly clear that men have a different range of expressive possibility without being penalised for it," Prof Crenshaw said.
It is not about individuals versus groups - it is a matter of the way society shapes how different groups of people are interpreted, she explained.
It is about who has the ability to get angry and still be taken seriously and who does not have the same luxury, she added.
Watch the full interview on Monday 15 October 2018 on BBC World News and the BBC News Channel or watch again on BBC iPlayer (UK only).