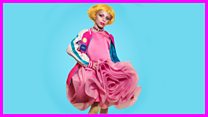 Video
The 'drag kid' who has Madonna and RuPaul as fans
11-year-old Desmond describes himself as a "drag kid", with celebrity fans including Madonna and RuPaul. The LGBTQ advocate is known as "Desmond is Amazing".
He told BBC Minute he's "helping people express themselves". His mother Wendy said he's been dressing up from a young age and she wants to encourage him. She said: "We get messages from other parents who say our kids are just like Desmond and it's so inspiring."
She defended giving her son such a public presence, saying he enjoys being on social media channels and being able to interact with his fans. She said she takes extra care to protect her son from any negative comments posted online: "I think it would concern anybody putting their child out there publicly, but it's a matter of monitoring comments and reporting, deleting and blocking people so Desmond doesn't see them."
We asked Desmond's mother about criticisms she's received from people who think drag is unsuitable for children. She told us "as a parent, if your child wants to do drag, that's fine" and said children like Desmond are "not doing adult drag... they're doing a more kid appropriate version of drag". Responding to concerns about Desmond doing a performance at a nightclub, his mother posted on social media that his performance was "age appropriate", carefully supervised and "in accordance with the Dept. for Labor's regulations for child performers".
We updated this video on 25 February 2019 to add more context.
Producer: Priyanka Deladia
Go to next video: Life as a London drag king