Petitioner Grandpa Lychee's patent battle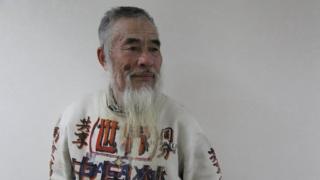 Illegal jails, labour camps, mental hospitals - various mechanisms are created to keep tabs on the hundreds of thousands of petitioners who flock to Beijing to call for justice every year. Most have problems with their local government officials.
Many petitioners choose to gather in front of government buildings for peaceful demonstrations. Some visit different media outlets to ask for attention. Our bureau is often visited by petitioners who suffer all sorts of injustices; some have lost their land and others their relatives. However, their cases are often so dated and personal that we can do nothing but be good listeners.
Among them, Zhu Guocheng, a 72-year-old man sporting a long, white beard, is well known to the BBC bureau. We call him Grandpa Lychee.
There he is again, standing timidly outside our office door, resting on a metal water pipe that he uses as a walking stick.
After being allowed in, he rolled out credentials for his patent for "autumn red", a special kind of lychee fruit that can be grown in pots, and unlike most lychees that are ripe in early summers, they can be harvested in cold autumns.
"I made the headlines in June, 1999, on Guilin Science and Technology newspaper here," Mr Zhu said, as he moistened his fingers in his mouth and gently flipped through the old and crumbly copies of newspapers.
Pointing to some old photos, he said: "Look, that's me showing my lychee plants to the local officials. After that, they blatantly claimed my patent as their own to make them look good."
'Chinese dream'
Mr Zhu spent 10 years cultivating his lychees, but he has spent much more time fighting officials for the patent that he says belongs to him. The police have detained him six times and he was put in a labour camp for four yours, where he suffered a broken leg from frequent beatings.
In Beijing, Mr Zhu often sleeps under bridges or rents a bed with other petitioners in shabby houses. He makes a little bit of money writing petitioning papers for his illiterate petitioner friends. Almost every morning, he visits various government buildings and media outlets, carrying a water bottle of porridge to sustain his energy and a bag full of petitioning materials.
With years gone by, the threat and disgrace Mr Zhu can bring to his local government officials are dwindling, so few bother to stop his petitioning now.
Now that Xi Jinping has become China's new leader, Mr Zhu sees a glimmer of hope.
Last week, when Grandpa Lychee came to the BBC office, he was wearing a jacket with bold handwritten characters. "President Xi Jinping said that the government should settle prominent problems concerning the people, provide shelter for them and ensure social stability," it read.
Wearing this jacket, Mr Zhu said, he'll never be beaten up again. "No one dares to touch me, because I'm part of President Xi's Chinese dream now," he says with a smile on his face, before leaving to continue his battle.