China wants Kim Jong-un to visit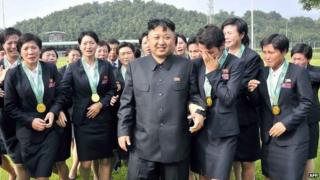 North Korean leader Kim Jong-un should visit Beijing "as soon as possible". China's state media issued an unusually direct invitation to North Korea's omnipotent leader this week.
Such a visit would "benefit the North's long-term stability", promised the editorial, which was published in two of the Communist Party's main newspapers, the People's Daily and the Global Times.
Such a public invitation is unusual, but in light of the news that North Korea's second in command, Chang Song-thaek, has been executed, China's eagerness to re-establish direct ties with the young Kim takes on a slightly urgent tone.
Chang Song-thaek was China's primary point of contact with North Korea. He was instrumental in setting up special economic trade zones between the two countries and visited China frequently with Kim Jong-il.
In August 2012, Mr Chang visited China for six days to discuss the creation of new economic zones piloting Chinese-style capitalist reforms.
However, the main mission of Mr Chang's trip, according to a source quoted by Reuters, was to set up a state visit for the young Mr Kim to visit Beijing.
'Something positive'
Unconfirmed reports indicate that Kim Jong-un had floated the idea of a visit to China towards the end of last year, but he was snubbed by Beijing. Busy preparing for a once-in-a-decade transfer of power, Chinese leaders postponed a possible visit from Mr Kim, "until he could produce something positive", according to Reuters news agency.
Chinese leaders, it seems, were frustrated by Pyongyang's one step forward, three steps back attitude towards economic reform and its nuclear program.
President Xi Jinping and his colleagues might wish for the good old days: in his final years, Kim Jong-un's father, Kim Jong-il, was a frequent visitor to Beijing.
In 2011, he is thought to have visited his neighbour three times in order to meet his Chinese counterparts and view China's economic development. He's also said to have been very fond of Peking duck, the capital's signature delicacy.
Kim Jong-un accompanied his father on his last trip to China, but he hasn't been back since he came to power after his father's death in December 2011.
Now, it seems, Beijing is realising its arms-length approach simply won't work.
North Korea could be in for a turbulent year ahead, and direct contact with Kim Jong-un is essential.
China has forged a reputation based on its ability to communicate with the North Koreans. Now, Beijing needs to speak to one North Korean in particular.