How Auld Lang Syne stormed China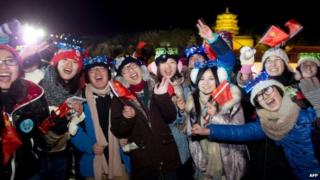 It is the simple Scottish folk song that has stormed the world. To mark the New Year, the unmistakable strains of Auld Lang Syne will be heard around the globe.
The song, written by the Scottish poet Robert Burns, is a firm favourite in the English-speaking world.
But perhaps less well-known is its huge popularity in China. The song is known as You Yi Di Jiu Tian Chang or Friendship Forever and Ever.
Most Chinese people could probably hum the tune and sing a few lines of it in Mandarin, but very few are able to sing the whole song. And even fewer have any idea about the song's origins.
The song is frequently played at school and university graduations, other formal gatherings, as well as parties.
Waterloo Bridge
But as for the Chinese New Year, Auld Lang Syne, rarely gets a look in. The Chinese have their song to mark the occasion - Nan Wang Jin Xiao (Unforgettable Tonight).
But how on earth did the Scottish song catch on in the most populous nation on the planet?
A large part of the reason appears to be the Hollywood movie, Waterloo Bridge, made in 1940.
It was a love story set amid war. During one beautiful scene in Waterloo Bridge, the two stars of the film dance to Auld Lang Syne.
The film was hugely popular in China at the end of the Second World War. It was then revived in the 1980s when the film was dubbed for a Chinese audience and widely played in the cinemas. For an older generation, it is considered a classic.
It's believed that because of the film, Auld Lang Syne is now widely taught in Chinese primary schools and high schools.
While the lyrics may be different here, the tune and the sentiment of the song remain very much the same.