'Good Samaritan' suicide stirs online debate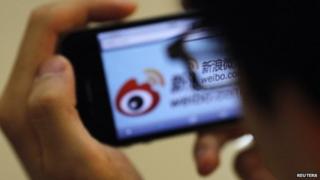 He was apparently the Good Samaritan who ended up killing himself, according to his family, after reportedly being harassed by the elderly man he had gone to help.
The story of Wu Weiqing, 46, has once again led to a fresh round of soul-searching about what sort of society China has become.
Mr Wu's widow told the Southern Metropolis Daily newspaper that her husband was riding his motorbike on New Year's Eve when he spotted an elderly man who appeared to have been knocked down.
According to his wife, Mr Wu took the man to hospital and then paid for his medical bills.
But she says her husband, a refuse collector, was then asked by the elderly man's family to pay compensation despite having not knocked him over.
The state-run news agency also reported that the family received a mysterious phone call from a policeman demanding he pay a huge sum of money.
Huge response
Not having the cash and finding the pressure too much to bear, Mr Wu killed himself.
But this version of events has been disputed by the elderly man's family.
"If he hadn't hit my father with the motorbike, why would he be so kind as to bring my dad to the hospital and pay for his medical expenses himself?" the old man's eldest daughter told the Guangzhou Daily newspaper.
Whatever the truth, the story has prompted a huge response online.
"What is going on in our society?" wrote one microblog user. "How can anyone be a good man?"
Another micro-blogger wrote: "This is the result of a system without free medical care. Whoever helps is in trouble."
There have been several high-profile cases in recent years in which injured people have extorted money from those who helped them.
With limited government health insurance, those injured in accidents can face enormous medical bills - and a loss of earnings - that can prove crippling to all but the wealthiest of families.
Many Chinese believe materialism has replaced compassion and that the country has lost its moral bearings.
The most heart-wrenching case was that of a two-year-old girl who was knocked over in a hit-and-run accident in 2011.
An astonishing 18 people passed the seriously-injured girl before finally someone came to her rescue. Wang Yue later died from her injuries.
Following a public outcry, the nearby city of Shenzhen introduced a "Good Samaritan" law in a bid to get people to help strangers.
But the story of Wu Weiqing may cause some to think again before going to someone's aid.