Malaysia Airlines MH370: 'We are working on it'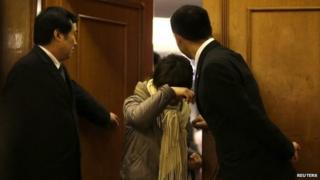 On day five of the search for the missing plane, the family members gathered together at a Beijing hotel still have no idea of what might have happened to their relatives on board.
It is an awful, gruelling and frustrating wait and, once again, around 300 of them crowded into one of the hotel's conference rooms this morning to hear from the airline's representatives and, for the first time, the Malaysian ambassador to China.
There was a torrent of questions.
One of the first to be asked elicited a small but compelling detail about the last words heard from the MH370 pilots.
With the plane at the boundary between Malaysian and Vietnamese airspace, out over the South China Sea, the Malaysian control tower radios that it is handing them on to Ho Chi Minh City control. "All right, good night," comes the reply.
The relatives then asked about the mobile phones being carried by some of the passengers that apparently continued to ring, hours after the plane vanished. "We are working on it," they were told.
They wanted to know whether a land search had begun for the plane, what help was being received from the team at Boeing and whether Malaysian government officials had been deliberately concealing information.
'Timely fashion'
The meeting was closed to foreign journalists but a few Chinese media organisations were allowed in, and a transcript from which the above quotes have been taken has now been published on the internet.
Malaysian Ambassador to China Iskander Sarudin is reported to have given the following statement:
"I hereby guarantee to you that Malaysia will do our best to solve the problem… The questions you ask will be brought to our domestic officials. We will notify you when we hear back from them. We will not tell you unconfirmed news from the internet. Our aviation ministry staff will stay here in Beijing with you and notify you in a timely fashion."
On Tuesday, the families presented Malaysia Airlines with a list of demands for clarification about the support and assistance it is offering them, including a $5,000 (£3,000) "consolation" fee to cover immediate expenses.
After the meeting, relatives told me that they had been given a guarantee that there were no strings attached to this offer, and that it would not be deducted from any final compensation. And they were told that they would be given regular updates, three times a day.
One man, whose 26-year-old son was on board the flight, described the mood as "more calm and stable".
While improving communication with the relatives is clearly important and welcome, what they want above all else is to know where the aircraft is. So far, no one is able to tell them that.