Premier Li Keqiang fails to surprise at media event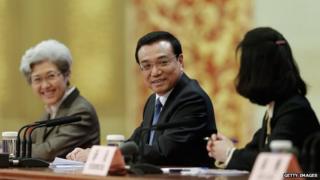 This year's annual press conference with Chinese Premier Li Keqiang yielded a painful lesson: ask a carefully scripted question, and the chances are high that you'll get a carefully scripted answer.
China's premier, the country's second-highest ranking official, participates in one major press conference a year to mark the end of the national parliamentary session.
A handful of media outlets are contacted days ahead of the event. They're invited to ask China's premier a question, but only if the query can be negotiated in advance.
This year's event was no different. Foreign and Chinese journalists stood up to quiz the premier on a range of issues, from the economy to China's pollution woes. The event would have seemed spontaneous to many watching on live television, though the questions themselves were relatively lenient.
If it's possible, this year's press event seemed even more stage-managed than in years past.
No Zhou Yongkang
First, journalists were strictly warned to avoid asking about the elephant in the room: the fate of China's former domestic security chief, Zhou Yongkang.
According to the South China Morning Post newspaper, journalists were told they could not attempt to confirm rumours that Mr Zhou is believed to be the ultimate target of a wide-ranging anti-corruption investigation.
That's far different from 2011, when former Premier Wen Jiabao used a similar press conference to deliver a thinly veiled attack on another high-ranking Communist official, Bo Xilai. A short time later, Bo was sacked from his position and booted from the party.
This year, no mention was made of Zhou Yongkang, and much to the frustration of journalists, Mr Li failed to ignite headlines with any other announcements.
The 90-minute press conference did not appear to reveal any new initiatives or major observations. Halfway through the press conference, many members of the media appeared to be asleep.
In contrast, former Premier Wen appeared to relish his time in the media spotlight.
In 2010, he made waves by admitting there were "serious disruptions" in ties between Beijing and Washington, then energetically dismissed criticism that Chinese delegates had sabotaged global climate change talks in Copenhagen.
A year later, Mr Wen admitted "step by step" political reform was necessary under communist rule.
Perhaps, some wonder, Li Keqiang simply isn't powerful enough to go out on a limb when addressing the media?
Perhaps he lacks the clout, or the confidence, to make independent remarks.
Admittedly, many of Mr Wen's more interesting comments came in the last few years of his tenure, after he'd had a chance to find his feet.
One hopes that eventually Mr Li will do the same.
Few foreign journalists are comfortable asking pre-formulated questions, particularly if the answers are similarly contrived.