China's Crimea dilemma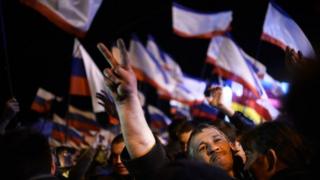 Fireworks exploded over Crimea following an overwhelming referendum decision to split from the Ukraine.
To the east, Chinese diplomats are probably burying their heads in their hands. Crimea's lightening-quick referendum saddles China with a diplomatic dilemma.
The country's communist leaders have often repeated China's respect for the sovereignty of all countries, though Beijing is also under considerable pressure to support its ally, Moscow.
"The China-Russia relationship is in its best period in history", China's Foreign Minister Wang Yi proclaimed during China's annual parliament session this month.
Politically, the two states often work together. China has often backed Russia's stance on Syria. China and Russia also conducted joint naval drills last July, the largest joint military exercises in Chinese history.
The countries' economies are also interlinked: China is Russia's largest consumer of oil, overtaking Germany last year.
'Resolved politically'
But the Crimeans' calls for separation challenges China's often-stated reluctance to become involved in what it perceives to be other countries' domestic affairs.
Also, the way China responds to Crimean separatism highlights Beijing's refusal to recognise similar demands for political autonomy in its own backyard. If China respects Crimean demands to dictate their own political future, why not those in Tibet, Xinjiang or Taiwan?
Beijing's solution: diplomats are falling back on formal calls for dialogue and restraint.
"The Crimea issue ought to be resolved politically within a legal and orderly framework. The international community ought to play a constructive role in ameliorating the present situation," foreign ministry spokesman Hong Lei said on Monday.
On Saturday, China abstained from voting on a United Nations Security Council resolution that declared the Crimean referendum to be illegal.
But China's attempts to stay at an arm's length from the Crimean issue might only last a few weeks. At the end of March, Chinese President Xi Jinping will travel throughout western Europe.
Mr Xi should begin practicing his tightrope walking skills in preparation for his trip.