Plane relatives: 'Embracing the finality'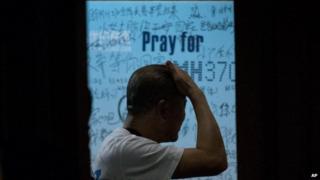 Twenty days ago, they were all strangers to one another. But now the relatives of those on board the missing Malaysian plane have formed a complex support network.
Thrown together by chance, the families come from every corner of China. Some sport fashionable haircuts and carry expensive mobile phones. Others travelled to Beijing from the countryside, their skin tanned brown after working outdoors.
Now they gather daily at a sprawling hotel on Beijing's east side, better known for hosting foreign tour groups than press conferences.
In the past week the families have learned to work as a group, appointing a "representative board" of approximately 10 members to speak for all the Chinese families.
At 02:00 last night, one family member posted a notice on the mobile forum the relatives use to communicate.
"I just finished a draft of our meeting today and put it online," he wrote.
A few minutes later, another family member responded to him. "Take a rest," he urged. "You did well."
Most of the families' online conversations focus on practicalities, discussing meeting times and strategies they can use to push the Malaysian authorities for more information.
Anyone with writing skills was urged to meet in the hotel's prayer room today to help draft appeals the families will send to Chinese leaders, begging them to help with the rescue.
'Loneliest people'
For now, the relatives refuse to publicly acknowledge the plane might have crashed, killing everyone on board. They prefer to believe the aircraft might have landed safely somewhere. A hijacking, perhaps.
But in private, some are slowly and painfully embracing the idea that, after more than two weeks, MH370 is gone.
In the past day, psychologist Paul Yin has witnessed a shift in the outlook of several of the families he is counselling.
"They're embracing that finality now," he says. "The healing process can start."
Dr Yin is in contact with 20 or 30 of the families at the hotel. He is particularly worried about an elderly couple missing their children and grandchildren on board the plane.
"In Chinese culture, when you get to a certain age, the meaning of life has to do with the younger generation; that's why you're here," Dr Yin said.
"And when you have lost that, then it's difficult to find a reason, a motivation to stay around," he said. "Some of the people we may need to put on suicide watch to try to protect them."
Some families found the hotel's atmosphere too stressful and left to return to their home towns.
But others have found they cannot function away from the hotel and the other families, Dr Yin says.
"We do have people who have left and came back the next day because they felt uncomfortable in their home environment."
Outsiders might believe some of the families' extreme anger towards the Malaysian search teams is irrational or unreasonable, Dr Yin says.
"But when you have gone through something that really no one else has gone through, really no one else can understand their emotions."
These people all feel like the "loneliest people on Earth", he says. "And that's why, I think, the families stay on, in this hotel, because at least here they feel like people understand them."