Stakes rise in strike at China's Yue Yuen shoe factories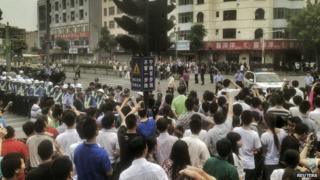 One of the world's largest group of shoe factories in southern China has gone quiet.
In a strike that has dragged on for more than two weeks, more than 40,000 workers at the Yue Yuen shoe factories located in Dongguan, Guangdong province, are refusing to report to work.
"We are just sitting or standing in or outside the factories, chatting to each other," explains Mr Luo, one of the striking workers who did not want to be identified by his full name.
Hundreds of police are close by.
"The ones who shout slogans get taken away. We don't even dare to think about banners," Mr Luo adds.
Workers are pushing Yue Yuen's Taiwanese parent company, Pou Chen, for increased social benefits, compensation for overtime and housing benefits. Some workers are also pushing for a 30% salary increase.
Two activists working for Chunfeng, a labour dispute service, had been helping the workers to organise themselves, Mr Luo explained.
Rising stakes
But on Thursday, the activists were detained by the police. One of the men, Zhang Zhiru, was released a day later. He confirmed to the BBC that he was alright, but he was reluctant to discuss his ordeal. Mr Zhang's colleague, Lin Dong, is still believed to be in police custody.
Nonetheless, Zhang Zhiru has vowed to continue helping the workers.
In an open letter released on a colleague's microblog account, Mr Zhang wrote that "Chunfeng will continue its commitment and dream. The organisation will try its best to provide service and assistance… no matter what kind of pressure it is under or what kind of difficulties it will encounter. "
Mr Luo, the striking worker, is relieved the activists will continue to offer advice.
"Chunfeng helped us unify our demands," he told the BBC.
"They suggested we choose some representatives. Then we should get help from professors and experts and negotiate with the factory. I think this is the right way. I have never met them but they were helping us through online group chats."
Yue Yuen appears to be open to negotiation. Last week, the company offered to begin paying full social security benefits by 2015, but it has now offered to pay workers those benefits starting next month. However, the two sides have yet to reach a deal.
The stakes are rising for the shoe manufacturer, as some of its major clients consider shifting production elsewhere. Adidas, the company's largest customer, has already moved some of its business to other nearby Chinese factories.
As the work stoppage continues, Mr Luo says that tensions are rising in Dongguan.
"We are still on strike but some team leaders tried to force us to work. One worker was beaten. Others were threatened and told they will lose their job if they don't go back."
But he is certain the strike will have long-term effects, no matter what the two sides decide.
"No matter if we will succeed or not, it will be recorded in history. It will be effective in improving workers working conditions and social benefits in the future."