China gay arrests 'explicitly linked' to Tiananmen anniversary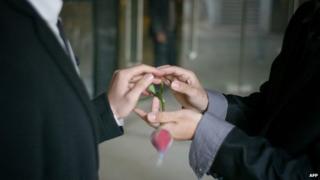 It is not unusual for dissidents and activists to find themselves under increased scrutiny, even detention, ahead of the anniversary of the Tiananmen crackdown.
But with the 25-year milestone still almost a month away, it is a sign of just how sensitive things are that a group of gay rights activists should also find themselves caught up in the security sweep.
The seminar due to be held in a Beijing hotel was to discuss, among other things, legal procedures for establishing gay advocacy groups.
Gay relationships have been legal in China since 1997 but, shortly before the seminar was due to begin on Wednesday morning, nine of the participants were taken to police stations for questioning and told to send out a message to say the event had been cancelled.
Subversive
One of the organisers told the BBC that while they sometimes face difficulties with the police pressurising venues not to host their events, they have held such seminars before.
This time, though, they say the link to the Tiananmen anniversary was made quite explicit.
"Arresting nine of us altogether is unusual," the organiser said.
Nonetheless, however high the current level of official anxiety might be in the run up to 4 June, the targeting of a gay rights group probably says something significant about the way in which homosexuality is still viewed as subversive in China.
After all, one has to assume that whatever the time of year, nine people organising, say, a cookery seminar in a Beijing hotel would not find themselves similarly hauled off.
In Shanghai at least the city's increasingly open gay subculture can lead to the misconception that stigma and prejudice are no longer major problems in China.
Things are certainly changing. What is being called "the largest gay club in Asia" recently opened here, and next month's Shanghai Pride event (scheduled to begin a good few days after that all-important anniversary) has a 10-day line up of activities including a gay movie festival, a 6km (3.7 miles) run and panel discussions.
But gay people in China still face deep cultural barriers to acceptance, pressure from their families to marry and a complete lack of any legislation under which they can challenge discrimination.
Shanghai Pride lacks one key ingredient - a parade - because any such gathering needs state approval, and the gay film festival takes place only with the help of friendly foreign consulates providing the venues.
All nine of the activists detained this week have been released.
The state-run Global Times newspaper reported the story but omitted any mention of a possible connection with the Tiananmen anniversary.
It is, by far, the bigger taboo.