Parody of popular Chinese show on British food goes viral
By China blog staff
BBC News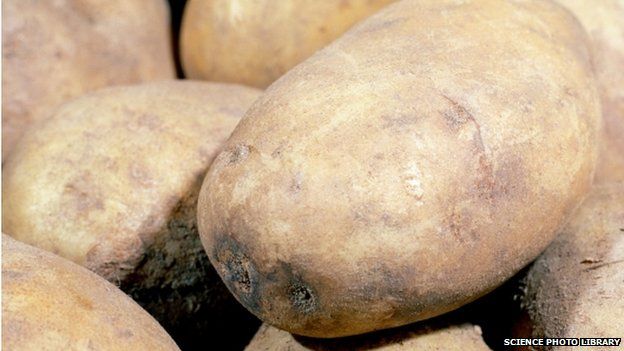 Titled A Taste of Britain, it satirises the stereotypes of British food held by many Chinese people - some of whom label British cuisine as "simple and violent".
Created for an English talk show on China Radio International, the parody explains: "There is one secret known throughout all kitchens in Great Britain." The suspense continues: "From an early age, the British are taught…", it pauses, "that small potatoes cook faster than big ones".
Co-host Stuart Wiggin is seen carefully sprinkling salt on a potato, explaining that a tasty snack like this can keep British people going "literally all day long".
"Chinese people absolutely adore their own cuisine," Wiggin told the BBC. "The Bite of China is well-produced, and everyone has seen it."
This parody got so much attention, he says, because it "resonates with them because of food, and they can have a laugh. They've all heard about of the stereotypes".
And the stereotype of the British as a nation of potato-eaters is widespread. When the British Embassy of China recently asked internet users to describe British food in three words, the responses were almost unanimous: "Potatoes, potatoes, potatoes."
"This is the highlight of Britain's dark cuisine," said one microblogger. Another posted: "I envy them. At least they don't have to crack their minds every day thinking what to eat for the next meal."
The embassy responded with a tongue-in-cheek introduction to different kinds of potatoes - King Edward, Charlotte, Desiree - and a selection of cooking techniques. The response from some was brutal: "Potatoes are potatoes. Stop trying too hard!"
The oddest online discussion though concerns a "famous" British dish called the Stargazy Pie - which even many Brits may never have heard of. It features a pastry dome with a few fish heads poking out, and along with the humble potato it has come to epitomise British cuisine in Chinese eyes.
"Oh it's so brutal. The poor fish died with their eyes wide open," said one commenter. "Great Britain's creativity has broken the limit of the sky!"