China court accepts 'gay conversion therapy' case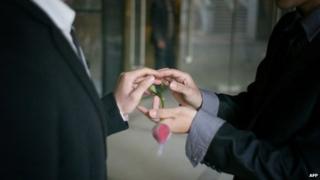 Since it first opened its doors two years ago, the Fragrant Language of the Heart clinic has promised to "heal" homosexuality using hypnotherapy and electroshock treatments.
Last August, a 30-year-old man was pressured by his family into enrolling at the clinic in Chongqing, a south-western Chinese city. However, he found the first session to be so emotionally traumatic that he refused to return to the clinic again.
Now, a Beijing court has taken the rare step of accepting the man's lawsuit against the clinic. He is suing Fragrant Language of the Heart for false advertising. Baidu, a major Chinese search engine carrying advertising for the clinic, has also been named in the suit.
Geng Le is the founder of Light Blue, the largest gay rights website in China. He has spent years petitioning for the closure of gay conversion therapy clinics, often without help from the Chinese authorities. He was pleasantly surprised to learn the Beijing court even accepted the case.
"Many people were tricked because their parents insist on putting them on therapies, which end up changing nothing after costing a big sum of money," Mr Geng explains. "This is the first case of a person using the law as a weapon to defend himself."
Homosexuality was declassified as a mental illness in China in 2001, but homophobia still persists. At least 13 current psychology textbooks published between 2008 and 2011 still describe homosexuality as a mental illness.
Hospitals have also been known to prescribe psychiatric drugs to gay teenagers, explains Mr Geng.
Gay conversion therapy is a widely discredited practice that aims to transform individuals' sexual orientation from gay to straight. Several pseudo-scientific clinics across China offer the therapy for a hefty price.
The Chongqing clinic's website insists that homosexuality is a "mental obstruction" likely originating from "childhood trauma or an eagerness for power and beauty".
A $5,000 (£3,000) course of treatment asks users to watch gay pornography or simply imagine sexual relations with a member of the same sex before administering electric shocks "causing subconscious fear".
"Baidu provided the clinic with a platform to spread information. As the internet becomes more widely used, more people are aware of homosexuality," Mr Geng says.
"Most know homosexuality is not a disease and cannot be 'cured', but there are still a few commercial institutes who take advantage of Chinese traditions of continuing the family name and parents' misunderstanding about homosexuality.
"This is the case of a few businesses operating without any conscience."