Could Hong Kong limit mainland visitors?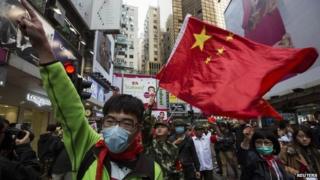 At a time when many countries around the world are clamouring to ease visa restrictions on big-spending Chinese tourists, the government of Hong Kong has begun looking at ways to limit their numbers.
This week, Chief Executive CY Leung surprised reporters by confirming that officials had indeed discussed a controversial proposal to reduce the number of visitors from mainland China by 20%.
He was quick to add it was only one of many options on the table.
Mr Leung said the government was in the process of listening to views from various groups, including residents and businesses, especially those in the booming tourism sector.
News of the public consultations comes after weeks of escalating street protests against the rising number of Chinese tourists.
Ronald Leung, an organiser of several of the protests, told BBC News that he welcomed the soliciting of views.
"I hope there is much more discussion, because at the moment, we only have a proposal," he said. "We think we can reduce the total numbers by more than 20%."
Hong Kong residents participating in Mr Leung's demonstrations accuse mainland tourists of driving up prices for property, luxury goods and even daily necessities.
Demand for some products, such as powdered formula milk for babies, is so high that there are strict limits on how many tins can be taken outside the city.
And locals say they feel pushed out of neighbourhoods such as Causeway Bay and Tsim Sha Tsui that are popular with visitors.
Business opposition
Last year, Hong Kong, a city of just seven million people, hosted more than 54 million visitors, three-quarters of whom came from the mainland.
Amongst all mainland arrivals, nearly 60% came for just one day, mainly to shop.
By 2023, annual arrivals would exceed 100 million, according to a conservative government estimate.
Newspapers had reported that the 20% curb on visitors would mainly target day-trippers, because they tend to spend much less on hotels and restaurants than tourists who come for several days.
But any restrictions would be strongly opposed by businesses that benefit from their presence.
Immediately after news of a possible curb on visitors trickled out, shares in some retail companies and property developers slumped.
According to the investment bank Goldman Sachs, Chinese tourists spent about $28bn (£17bn) in Hong Kong last year, including hotels, food and shopping.
It believes the city may lose from $2bn to $3bn in retail sales, if the government proceeds with a 20% cut in Chinese arrivals.