The fate of two sick babies in China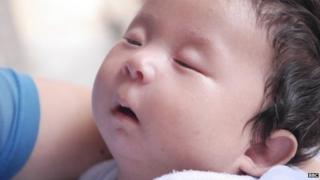 Four weeks ago, we told you the story of two seriously ill children, Chen Siyi, a nine-year-old with a rare blood disorder and Lei Miaomiao, an infant born with severe hip deformities and a cleft palate.
Without access to state care, the parents of both children resorted to extremes to access the treatment their children needed to survive.
Their stories elicited a huge response from BBC readers, with many asking how they could help both families.
Unfortunately, Chen Siyi's condition has deteriorated since we first met her.
Siyi's parents took out a high-interest loan through dubious lenders in order to fund her first bone-marrow transplant.
"My daughter's first bone marrow transplant didn't work," says Siyi's father, Cheng Bangjian.
He pauses frequently when speaking, illustrating the heavy toll his daughter's illness is taking on him.
"We spent $16,000 (£9,500) in finding an outside donor, but the stem cells didn't grow," he says.
"Now the doctors are considering using my bone marrow to try again. Mine matches only 50%, unlike the previous one which matched 80%. For this new transplant, we have to spend another $40,000 (£23,500).
"I've asked everywhere I could for money, and now I have no other options. I'm worried sick."
As her parents scramble to scrape together more money, Siyi has been cut off from the outside world. For nearly six weeks, the nine-year-old has sat alone in small room inside the intensive care unit of a Beijing hospital.
To protect her weakened immune system, Siyi isn't allowed human contact. Instead, she talks to her anxious parents three times a day using a closed-circuit television system.
Throughout all of this, the little girl has been patient, even upbeat. But that's because her parents haven't told her the full story about her illness.
"My daughter is quite optimistic. We haven't told her the first transplant didn't work," Cheng Bangjian admits.
The baby, Lei Miaomiao, now faces a far different future.
A charitable foundation in Beijing, the United Foundation for Children's Health, has agreed to pay for Miaomiao's medical care. The Lei family will travel to Beijing this summer to receive a complete diagnosis. Miaomiao will likely have an operation to fix her cleft palate next year.
When she's a bit older, she'll undergo operations on her legs. Until then, she'll probably have to wear a series of leg braces.
All of this medical care will cost tens of thousands of dollars. The Lei family still need money to cover transportation and accommodation costs not covered by the foundation, but Mr Lei is optimistic.
"Now my mindset is very different from before," Miaomiao's father, Lei Zebao, said in a recent phone interview.
"When I went to the orphanage [to abandon my daughter], I did it out of despair. I had no other options.
Mr Lei says the media attention he has received has helped immensely.
"That momentum is what kept us going. From the bottom of my heart, you are my saviours," he said.