Harsh sentences dealt to activists as Li leaves UK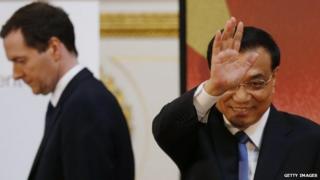 On the day China's Premier Li Keqiang flew into London earlier this week, one British government minister cautioned against letting human rights concerns "get in the way."
Perhaps China's courts were thinking along the same lines.
On Thursday, with the visit safely over and Mr Li preparing to board his plane with a reported $23.8bn (£14bn) worth of business deals in the bag, they delivered a stunning reminder of the price his government demands for even mild dissent.
In April last year three activists made a banner calling for Communist Party officials to publically disclose their assets and then unfurled it outside a housing complex in their home city of Xinyu in eastern China.
Another homemade banner called on China's President Xi Jinping to "immediately end dictatorship".
Now, following more than a year already spent in detention, two of the activists, a man and a woman, Wei Zhongping and Liu Ping, have been jailed for six- and-a-half years.
Another man, Li Sihua was given three-and-a-half years.
Of course, the timing of the verdicts may well be a coincidence but then, if so, it's a lucky one.
Had they come a day or two earlier, the news that such a small, peaceful gesture can lead to such a stiff penalty might have got at least a little bit in the way of the two governments' attempts to stick firmly to UK-China trade issues.
The verdicts are being widely seen as part of the intensifying crackdown on dissent and freedom of expression in China in recent months and are the harshest handed down so far in relation to a group calling itself the New Citizens' Movement.
This loose network of activists, campaigning for the rule of law and government transparency, has - despite President Xi's much vaunted "crackdown on corruption" - been harried, harassed and repressed over the past year or so.
A number of members have been arrested and jailed including the movement's co-founder, the well-known lawyer and university lecturer Xu Zhiyong, sent down for four years in January this year.
Another prominent lawyer, Pu Zhiqiang, who has represented some members of the group, was among dozens of lawyers, journalists and activists rounded up and detained ahead of the 25th anniversary of the Tiananmen Square crackdown earlier this month.
Mr Pu has since been formally charged with "picking quarrels," the same main charge faced by the three activists from Xinyu.
There have been a number of questions raised about the fairness of their trial, with defence witnesses reportedly detained and therefore unable to testify, the defendants complaining that their lawyers were being obstructed by the court, and foreign diplomats prevented from observing the proceedings.
Liu Ping, 49, was allegedly tortured during her detention - subjected to violent interrogations and extensive shackling.
The longer six-and-a-half-year sentences for Ms Liu and Mr Wei relate to the additional charge of "using an evil cult to undermine law enforcement" for posting messages online in support of a member of the banned spiritual movement Falun Gong.
This week China's rising economic and political clout were clearly on display.
Li Keqiang met the Queen, a big Chinese bank got the go-ahead to become London's first clearing bank for the Chinese currency, and the British oil giant BP signed a 20-year deal to supply liquid gas to China.
The Communist Party-run newspaper, the Global Times, expressed its frustration with the "unprofessional" British news media, which it said, "habitually hypes up China's human rights and calls on the British government not to sell its soul in exchange for Beijing's trade pacts."
In the same week though, the Communist Party-run court system has demonstrated well why those human rights questions refuse to go away.