Is Xi Jinping trying to provoke anger against Japan?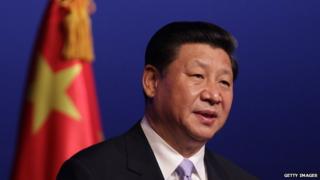 In China, the 77th anniversary of an event rarely merits a nationally televised memorial service - or an appearance by President Xi Jinping.
But on Monday more than 1,000 special guests, including top Communist officials, military veterans and young children, turned out for a highly choreographed memorial marking the Marco Polo bridge incident which sparked the Sino-Japanese war in 1937.
The bloody skirmish between Chinese and Japanese troops took place on the outskirts of Beijing, igniting Japan's eight-year invasion of China.
"This grand ceremony is here to remember history, commemorate martyrs, cherish peace and sound a warning to the future," Mr Xi said in a speech outside the Museum of the War of the Chinese People's Resistance Against Japanese Aggression.
Mr Xi used his speech to comment on the present, criticising a "small group of people who ignore historical facts" and "create regional tension".
Dozens of school children then shouted a vow "not to forget the shame of the nation".
In the past, memorials of the 7 July battle were relatively low-key. Last year, a two-minute state television story on the anniversary featured local Communist Party members placing flowers on the Marco Polo bridge.
But this year's 90-minute television spectacle comes as Beijing is putting pressure on Tokyo to apologise for wartime acts, including Japan's use of wartime sex slaves and the Nanjing massacre in 1937.
The two countries are also engaged in regional disputes.
China and Japan both have claims over a small string of islands in the East China Sea, known as Diaoyu in China and Senkaku in Japan.
Last week, Japan alarmed many in China by reinterpreting its constitution, giving the Japanese military greater latitude to fight overseas.
Monday's memorial service was the leading topic of conversation for millions on Weibo, the leading Chinese internet forum often compared to Twitter.
"This is a national humiliation which we can never forget," read a typical comment. "What China-Japan Friendship? Wolves will always devour humans. It is a crime to be friendly to our enemies."
Out of thousands of comments online, only a tiny minority questioned the purpose of the televised memorial.
"Look what the government has stirred up among the people? Anger created for a political purpose is bad. This will only make things worse," the dissenter wrote.