Chinese Communists' adultery ban - a propaganda stunt?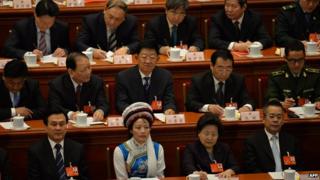 Cheating on your wife? Well, if you're a Communist party official you'd better think again - you could face the sack.
We've heard a lot about China's far-reaching anti-corruption campaign at the behest of President Xi Jinping.
Less, however, has been made about the ruling Communist Party's latest crackdown on "moral corruption".
While adultery may be frowned upon in China it is not illegal for ordinary citizens.
But according to a report in the English-language newspaper China Daily, "adultery" is now banned for party members.
The newspaper says that members were warned in June by the Communist Party watchdog that they must adhere to "higher moral standards" than the public.
It reported that six officials have already been found guilty of committing "adultery" - but did not say what punishments had been meted out.
But just when you thought the party was taking a puritanical stand, the newspaper said that when authorities had previously accused officials of "moral corruption" they defined this as having more than "three mistresses".
In the public's eyes, mistresses have become the ultimate symbol of corruption. The common assumption is no official would able to buy his mistress a car or a home without pilfering from public funds.
According to a government report in 2007, an astonishing 90% of top officials brought down by corruption scandals had kept a mistress - and in many cases they had more than one.
But many see the Communist party preaching about morality as perverse and little more than a propaganda stunt.
When the former top leader, Bo Xilai, was first charged with corruption, prosecutors added rather gratuitously that he had "maintained improper sexual relations" with several women.
The accusation may well have been true. But by putting sex on the charge sheet the authorities were seeking to blacken the politician's name before a trial even took place.
The party must have hoped the public would focus on the moral failings of one man - rather than its own misdeeds.