Protests point to Macau awakening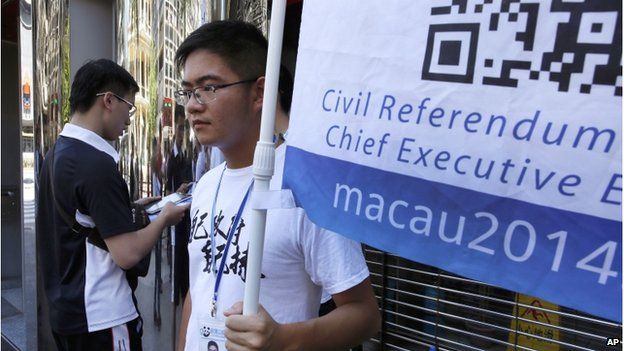 Most people know the Chinese city of Macau only as the casino gambling capital of the world.
The former Portuguese colony powered past Las Vegas for the title back in 2006.
Now, the special administrative region brings in more money every two months than Vegas makes in an entire year.
If Macau were an independent country, it would be the world's fourth richest per person - behind Luxembourg, Norway and Qatar, and just ahead of Switzerland, according to the newest figures from the World Bank.
But success has brought many problems: a large wealth gap, lofty prices and traffic congestion.
Rapid economic growth and its subsequent unresolved social problems have fuelled a political awakening in Macau.
On Monday, more than 1,000 dealers, servers and other employees marched from the Sands China casino to government headquarters.
Their route took them past casinos owned by all the Las Vegas- and Macau-based gambling giants.
Their demands? Salary hikes, the barring of foreign workers from certain casino jobs, improved benefits and greater protection from second-hand smoke.
"A lot of our members feel they have been put under so much pressure from their employers that they can't take it any more. They must stand up and ask for the benefits they deserve," Ah Yuen, a director of the Macau Gaming Industry Frontline Workers union, told me.
"Just look at how the economy has grown, and how much money the casino industry makes. It grows by more than 10-fold every year. But our salaries haven't caught up. I can't afford to buy property. I have to work for another 30 years to afford a two-bedroom flat."
Mr Yuen and many union members say they staunchly support an unofficial referendum on Macau's political future that was partially shut down by police over the weekend.
Five volunteer activists were arrested.
Macau residents wishing to take part in the referendum, whose results are not backed by the force of law, were originally meant to be able to vote in person and online.
There were two questions on the ballot: whether there should be universal suffrage for the 2019 election for chief executive, and how confident voters were about Fernando Chui, the only candidate for the upcoming chief executive vote on Sunday.
About half an hour after the voting stations opened on Sunday, police arrived and disrupted the exercise, saying organisers had no right to gather personal information from voters.
Jason Chao, president of the Open Macau Society, one of three organisations that sponsored the vote, disagreed with the police, saying they had asked voters for permission and needed the information in order to prevent counting errors.
Mr Chao, a software developer, is one of the most high-profile of a new generation of pro-democracy leaders in Macau, a formerly sleepy colonial enclave that seemed less concerned with politics than neighbouring Hong Kong.
"The civil referendum is a chance for citizens to experience the exercise of civil rights," he told me in front of Macau Government House, a vividly pink Portuguese building.
"I denounce the government's serious abuse of power in cracking down on our voting booths. It's unjust, and it's a serious case of human rights violation."
He added: "There are issues citizens face on a day-to-day basis: inflation, high property prices and traffic congestion. I think citizens now begin to realise what is the root of all these community issues. People know we should hold our government leader accountable to us, thus we can bring more effective changes to those community issues."
The organisers of the referendum have accused Mr Chui, the sole Beijing-friendly candidate for chief executive, of being the driving force behind Sunday's police action.
When asked about the accusations, Vong Hin Fai, a spokesman for Mr Chui's campaign, declined to comment.
The politician, who has been in power since 2009, is expected to be elected on 31 August by a group of 400 electors with more than 95% of the vote.
Activists believe the unofficial vote will show he would win far fewer votes in a popular election.
Despite the closure of the five polling stations, voters are still able to vote online.
As of 20:00 local time on Monday (12:00GMT), just under 6,000 votes had been cast.
It is a modest number compared to the 800,000 ballots that were cast in a similar referendum in Hong Kong in June.
But Macau, with a population of less than 600,000, is much smaller than Hong Kong, with its seven million residents.
Though activism has had a much shorter history here, the rising frequency of street demonstrations suggests the city's political awakening is just beginning.