Is Ilham Tohti friend or foe of China?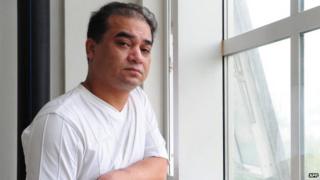 Ilham Tohti, an economist and persistent champion of the rights of China's Muslim Uighur minority group, will face trial in Xinjiang on Wednesday.
For years, Mr Tohti has built a reputation as a moderate critic of Beijing's policies towards Uighurs. He questioned the government's role in persistent violent confrontations between Uighurs and the dominant Han Chinese ethnic group.
Mr Tohti's detention in January was seen by many as a part of a broader crackdown against Uighurs in China.
The court's charges are serious; Mr Tohti is accused of "separatism".
It is almost certain that he will be convicted, given the high profile and political nature of his case. According to the indictment, he faces at least 10 years in prison.
So, is Ilham Tohti really a moderate? It depends who you ask.
China's mission to the EU appears not to think so.
The mission said in August that Mr Tohti had been "personally involved" in orchestrating two episodes of violence in Xinjiang, diplomatic sources have told the BBC.
And earlier this year, sources said the mission also accused Mr Tohti of fostering links with the East Turkestan Islamic Movement, a radical group pushing for Xinjiang's independence.
'Promoted dialogue'
But those closest to Mr Tohti say the allegations against him are simply untrue.
He consistently promoted dialogue between Uighurs and Han Chinese, they say.
In 2005, Mr Tohti established a website, Uighur Online, in hopes of opening a forum for discussion between the two groups.
"I love my still-impoverished and long-suffering ethnic group. I love this land which has nurtured me," Mr Tohti explained in a 2011 essay titled My Ideals and the Career Path I Have Chosen.
"I worry about my homeland and my country falling into turmoil and division. I hope that China, having endured many misfortunes, will become a great nation of harmonious inter-ethnic co-existence and develop a splendid civilisation," he wrote.
"These are my ideals and personal objectives, and the choices I have made have their roots in my family's history; my upbringing; my mother's teachings; and my education as well as personal experiences."
Ilham Tohti was detained in January. For months, he was barred from seeing a lawyer.
In August, he was forced to wear leg shackles in prison - reportedly as punishment for coughing and irritating other prisoners.
"It's extremely worrying that someone like him, who is effectively the only voice for Uighurs in China, is being targeted and potentially given a very harsh sentence of over 10 years for making these criticisms," says Maya Wang, a Hong-Kong based researcher for Human Rights Watch.
"If he is considered, or labelled as a separatist, or an extremist, it really raises the questions of what kind of behaviour would be acceptable to the government besides complete submission to the government's authority."
Students held
A small group of Mr Tohti's students were also detained at the start of year, although their identities are still unclear.
They were also listed on the indictment and might appear in the Xinjiang courtroom alongside their teacher. The scholar is accused of promoting violence and hatred against China in his classroom lectures.
Last month, Mr Tohti's wife, Guzailai Nu'er, told the BBC that she could not comprehend the nature of the charges against him.
"There are cameras in every classroom [at his university], so why did they not discover his crimes in classroom before," she asks.
Ms Nu'er said there were four or five police following her at all times, and standing guard outside her home. She has since left Beijing to travel to Xinjiang for her husband's trial.