Ilham Tohti verdict: 'My father is an advocate for peace'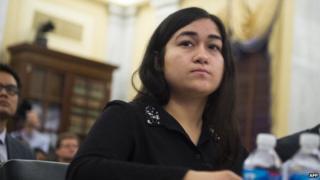 The court's decision - life behind bars - came as a shock to Ilham Tohti's family: his wife, two young sons, and his 20-year-old daughter, Jewher. Her father's lawyer had warned her about the verdict.
"He told me that it's possible they will give him a life sentence, but I didn't believe that, because I didn't think the government is going to do such a cruel thing. I was very angry," Ms Ilham told the BBC by phone from her US home in Bloomington, Indiana.
A Chinese court found the prominent academic guilty of separatism and inciting violence.
Ilham Tohti is a member of the Uighur ethnic minority group and was a vocal critic of the Chinese government's treatment of Uighurs living in the far western region of Xinjiang. Human rights groups and several governments, including the United States and the EU, criticised the verdict, pointing to his long-standing public record as a political moderate.
Records from the trial have not been released, but China's state media say Tohti encouraged Uighurs to use violence, delivering lectures that contained "separatist thoughts".
"From what I have witnessed, my father has always advocated peace," Jewher explains. "He's been critical of the flaws of both the Uighurs and the Hans and the problems of the policy.
"It's everyone's right to speak about the problems of the policy. Legally speaking, we are granted the freedom of speech. My father didn't cross the line."
'No extremist'
Jewher describes herself as a "child" when first arriving in the United States. She was meant to accompany her father as he took up a year-long teaching position at Indiana University. At the airport, Mr Tohti was barred from leaving the country and Jewher had to travel to the United States alone.
In the past year, she's been forced to step into a role as a defender of her father's reputation. She's determined to dispel illusions he is an extremist.
"I didn't choose this life for myself," she says. "(But) I don't want to just sit there and cry. I'm the oldest child of my family. I will keep standing up and speak for my father. I will try any way and find anyone to try and help my family."
Following Uighur custom, she uses her father's first name, Ilham, as her family name, meaning she is literally named, Jewher, daughter of Ilham. It's a position she takes very seriously.
Ms Ilham has already spoken in front of the US Congress about the rough treatment her father has received at the hands of the Chinese authorities.
'Why shackle him?'
This week, the university student is consumed with worries about her family in Beijing. The court has vowed to confiscate all of Ilham Tohti's assets, potentially leaving Jewher's stepmother and two young brothers without a place to live.
"My brother is having heart problems because of my father's situation and we were going to sell the family car to pay for his medical costs," she says.
"But we had to reconsider that plan, because we don't even know where the family might be living soon, not to mention curing my brother."
Jewher is also having sleepless nights, worrying about her father's condition.
"Autumn in Urumqi is very cold and they won't allow my father to wear the clothes we sent him," she says. "He has shackles on his hands and feet. My father is not a murderer. Why shackle him?"
"He wasn't even allowed to keep a photo of the family. He was very upset because he loves us."
Ilham Tohti has vowed to launch an appeal, though few, including his daughter, have any hope his life sentence will be overturned.