Hong Kong protests: China detentions in shadow of rallies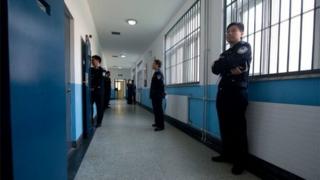 A small but growing number of people have been placed under police control across the Chinese mainland after expressing support for Hong Kong's pro-democracy protests.
Just last night, 12 police officers knocked on Ding Weibing's door late at night.
They had come to detain him for his role in organising an artists' gathering last week. Mr Ding and some friends had planned on reading poetry and displaying posters in support of the events in Hong Kong.
'Disturbing the peace'
"I was very scared. It was midnight and there were so many police at my door," Chen Meiling, Mr Ding's wife, told the BBC.
"They were also very loud and rude. They scolded my husband and forced him to squat on the floor while they were questioning him."
The police told the couple to turn off their mobile phones. Police confiscated their computers and a camera memory card before taking Mr Ding away.
"I felt like we had been invaded," she added. "My husband is a decent man who pursued justice. He didn't do anything wrong."
The BBC has confirmed the names of seven people who are being held inside Beijing's Number One Police Detention Centre in connection with last week's planned gathering.
At least one member of that group, an artist named Wang Zang, has been officially charged with "disturbing the peace and provoking trouble".
Researchers at Amnesty International's Hong Kong office have verified that activists in seven Chinese provinces and regions, including Beijing, Shandong, Anhui and Chongqing, have been placed under police control.
It has not been possible to verify whether these activists have been officially detained, although they disappeared into police custody and have not been seen since.
Twelve activists, including Wang Zang, have been officially charged with "picking quarrels and provoking trouble," though the real number of detainees could be far higher.
"We don't know the extent of this, this could be the tip of the iceberg," says Amnesty International researcher William Nee.
"Quite a few names on this list we don't recognise, so we're worried this could escalate. This could be the start of a new wave of crackdowns on the Chinese mainland.
"Under normal circumstances, if this many people were detained across the country, all for the same reason, this would provoke international and domestic attention, but because of the dramatic events in Hong Kong, this is getting relatively little attention," Mr Nee adds.