Hong Kong protests: Anger after Kenny G tweets then deletes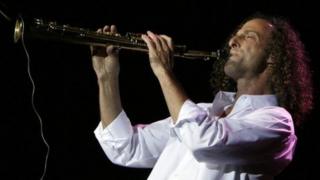 The American jazz musician Kenny G has angered internet commentators in Hong Kong by deleting a social media posting publicising his visit to a pro-democracy protest camp.
He also said in a statement, posted to his Facebook page and official Twitter feed, that he did not support the demonstrators.
Commentators interpret his comments as an effort to avoid a political scandal, which could potentially have cut off access to an extremely large, lucrative market.
The saxophonist, whose real name is Kenny Gorelick, is an unlikely superstar in mainland China.
His smooth jazzy tunes, including the best-selling Songbird and Going Home, are routinely played in airports, hotels and shopping malls.
On Wednesday, the musician paid a visit to the main protest site in the Admiralty district in Hong Kong.
Instantly recognisable with a mane of curly hair, he posed for photos with fans and uploaded a smiling selfie to his Twitter feed.
In the photo, he stands in front of protest posters and flashes a peace sign.
He said he wished for "a peaceful and positive conclusion to this situation".
Although he did not directly express approval for the movement, his visit was warmly welcomed and widely shared on social media.
But, hours after the visit was condemned by a Chinese foreign ministry spokesman in Beijing, the musician deleted the selfie from his Twitter feed.
The Chinese government has characterised the civil disobedience movement as an illegal occupation.
The demonstrators are demanding greater democratic reforms, which they say had been promised by Beijing decades before. China says it has followed Hong Kong law.
In explaining his actions in a subsequent statement, Kenny G said he was not trying to defy the Chinese government.
"Some fans took my picture and it's unfair that I am being used by anyone to say that I am showing support for the demonstrators," he wrote on his Facebook page.
"I am not supporting the demonstrators as I don't really know anything about the situation and my impromptu visit to the site was just part of an innocent walk around Hong Kong."
He added: "I love China and love coming here to perform for over 25 years. I only wanted to share my wish for peace for Hong Kong and for all of China".
Reacting to his statement, an internet poster named Carmel Lee Barros wrote: "Very disappointing and cowardly of you to offer this pathetic clarity. It comes across as if you are protecting your own capitalistic income and your own brand."
Another commentator called Andy Yip wrote: "Don't worry Kenny. The money from China will keep coming. The jobs from China will keep coming, because you are exactly the type of people they like…people with no souls."
Celebrities, both in China and outside the mainland, do have to pay attention to how they are perceived by the Chinese government in Beijing.
One wrong remark, and they may be banned from performing or appearing in adverts.
Hollywood actress Sharon Stone was forced to apologise after commenting in the wake of the devastating 2008 Sichuan earthquake that it was "karma" for Chinese policy toward Tibet.
Her statement was issued by the cosmetics company Christian Dior, which had been featuring the star in advertisements in China. Her films were also reportedly banned from cinemas in China and Hong Kong.
And in 2000, Taiwanese singer Chang Hui-mei, better known as A-Mei was banned from performing in China after she sang at the inauguration of pro-independence President Chen Shui-bian. The ban was lifted several years later.
Singers Bjork and Bob Dylan have also been periodically banned from performing in mainland China.