Chinese journalist Gao Yu faces trial for leaking state secrets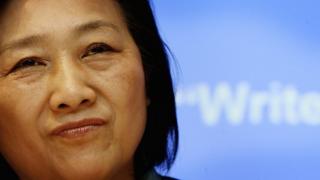 Chinese journalist Gao Yu goes on trial on Friday accused of leaking an internal Communist Party document. She faces a life sentence. What has Ms Gao done to anger Chinese leaders?
At the time, it was an astonishing confession. Gao Yu, a highly respected freelance journalist, was shown on national television in China, admitting she made a "big mistake".
Her face digitally blurred, she admitted to stealing a confidential Communist Party document and sending it to a foreign news website.
Even then, many suspected that the 70-year-old Ms Gao had been forced into confessing her guilt.
And now we know more: in a recent pre-trial hearing, Ms Gao told the court that she falsely admitted to a crime because police were threatening to arrest her son.
He had been detained at the same time as his mother. She did not know the "confession" would be televised.
'Document No. 9'
Ms Gao is used to fighting with the Chinese authorities. She served more than five years in jail in the 1990s on similar charges of stealing state secrets.
She had been convicted of sending Party documents, including a speech by then-President Jiang Zemin, to a Hong Kong newspaper.
This time, the Chinese government believes Ms Gao sent an internal Communist Party document, known as "Document No 9", to foreign news sites, including the Chinese-language site of the German broadcaster, Deutsche Welle.
Ms Gao's lawyers are mounting a two-pronged defence.
They will demand the court dismiss the content of her confession, because it was made under duress.
They also want the court to reconsider whether the case is related to state secrets, since the document she allegedly leaked was already widely circulated.
Human rights and media watch groups have decried the persecution of Ms Gao.
"Her trial epitomises the broader deteriorating rights environment, and it brings together several strands in the current crackdown on human rights in China," explains Maya Wang, a researcher for Human Rights Watch in Hong Kong.
"Gao is being tried for leaking state secrets abroad at a time when the government is increasingly worried about foreign interferences in the form of colour revolutions, and when it is increasing control over already limited freedom of expression."
How the trial proceeds, Ms Wang adds, and ultimately, how heavy a sentence the court issues to Ms Gao, will tell us about the authorities' attitudes on these wider issues.
'Reform not democracy'
Her conviction is all but certain. The vast majority of cases that proceed to this level in the Chinese court system, particularly state secrets cases, end up with a guilty verdict.
A selection of Ms Gao's writing on the Deustche Welle website in 2012 and 2013 reveal that she was fearless in choosing her subjects.
Over and over, she writes about internal wrangling between Communist Party elites, like the Party's chairman, Chinese President Xi Jinping, and his perceived adversaries, like former domestic security chief Zhou Yongkang. Mr Zhou is now being investigated for corruption.
At times, Ms Gao expresses admiration for Xi Jinping's sweeping anti-corruption drive, though she is also a pragmatist.
The corruption drive is also aimed at reworking the Party to give Mr Xi a firm grip on power, wiping out his political enemies along with other corrupt officials.
In May 2013, Ms Gao wrote a commentary about Document No 9, the Party discussion paper she is accused of leaking overseas.
That document urges Party members to resist ideas that could threaten Party rule, including "Western ideas" about the media "that would create havoc for the Party and society by stirring up public opinions".
Party members were also warned about the growth of "universal values" and "civil society" that would establish new political forces outside of the Party.
President Xi "only mentions reform, not democracy," Ms Gao told the BBC in an interview in March 2013.
"This is his political blueprint - to build a highly efficient and clean government, but whether this goal can be reached without democracy, constitution, multiple parties or press freedom is a question."