China to send artists to countryside for 're-education'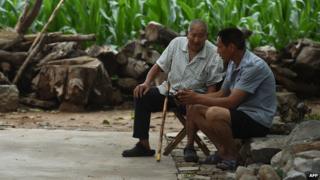 During Chairman Mao's heyday, he sent millions of young people to the countryside to learn from the masses.
Now in an echo of history, the State General Administration of Press, Publication, Radio, Film and TV, says artists, film directors and news presenters will be following the same well-trodden path.
The authorities say they will live in rural areas in order to "form a correct view of art".
It is being seen as a government attempt to educate wayward artists.
Some of the recruits will spend at least a month in a village in order to experience local life.
Others will be sent to areas deemed to be of historical significance to China's revolutionary past.
Among those already drafted into the campaign are provincial TV teams who will be visiting a famous battle site in order to find inspiration for an animated film series.
In a statement, the country's media watchdog says the initiative will allow participants to "unearth new subjects" and "create more masterpieces".
The announcement follows a major speech by President Xi Jinping who told artists, authors and actors that their work should promote socialist values and not carry the "stench of money".
In case they missed the point, President Xi presented his vision of government-approved art.
"Fine art works should be like sunshine from blue sky and breeze in spring that will inspire minds, warm hearts, cultivate taste and clean up undesirable work styles," the president told his audience in October.
Since coming to power, President Xi has cracked down on dissent and what he views as Western values.
In the face of tightening controls, many Chinese artists do not feel particularly "warm-hearted" to their leader.
Many will say the biggest problem they face is not their lack of knowledge of the countryside or indeed "the masses", but instead the censorship at the hands of the authorities.