The case against Chinese human rights lawyer Pu Zhiqiang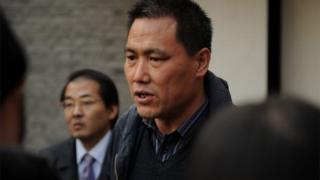 Before his detention last May, Chinese human rights lawyer Pu Zhiqiang often posted his thoughts online.
Between 2012 and 2014, Mr Pu wrote thousands of dispatches on weibo, China's version of Twitter.
Now just 28 of those messages could be used by the government to put Pu Zhiqiang behind bars for a very long time.
Mr Pu was once a towering presence in Chinese courtrooms, garnering admiration for his spirited defence of famous dissidents, including the artist Ai Weiwei, and the downtrodden, including poor farmers fighting rural corruption.
He was famous for his eloquence, sometimes citing classical Chinese poetry in the courtroom.
'Telling lies'
But Pu Zhiqiang's blunt weibo messages, many of them expressing frustration with the ruling Chinese Communist Party, are forming the state's case against him.
Police supplied a short list to Pu Zhiqiang's lawyer, Mo Shaoping.
"From top to bottom, the Communist Party can't get through a single day without telling lies," he posted on 24 July, 2012.
A few months earlier, on 5 February 2012, he wrote: "We should give Liaoning province and Shandong province to Japan, give some land in the south to Vietnam.
"Control of Beijing can be handed directly over to Washington. I'm willing to guide our guests to these places. As long as I can live better than I am now, I'll be satisfied".
Other messages criticise the Chinese government's policies towards Uighurs, the mainly Muslim minority living in Xinjiang in China's far west.
"They claim Xinjiang belongs to China. So they shouldn't treat it like a colony. Don't be a predator and a conqueror. You treat them as your enemy," he wrote on 7 May 2014, referring to strict government restrictions placed on Uighurs.
"These are ridiculous policies."
Soon after posting that message, Pu Zhiqiang was taken away by the police.
Freedom of speech
Mr Pu has been charged with creating a disturbance, inciting ethnic hatred and separatism.
After an initial investigation, prosecutors referred the case back to the police, citing a lack of evidence. Pu Zhiqiang could be sitting in prison indefinitely.
Mr Pu admitted to his lawyer that he clearly remembers writing most of the messages on the list, though both men deny Mr Pu's online musings constitute a crime.
"This case is very important," Mo Shaoping explains. "It is about lawyers' basic rights, but it's also about the freedom of speech that concerns every citizen of China.
"The Chinese constitution guarantees freedom of speech for every citizen."
There is little hope that Pu Zhiqiang will walk free. Dozens of human rights lawyers have been prosecuted in recent years, part of a crackdown on human rights advocates since Chinese President Xi Jinping came to power.
Two weeks ago, Mr Pu celebrated his 50th birthday behind bars. Presumably, it was a quiet day. Mr Pu has not seen his wife or young son since he was taken away.
Long wait
However, his lawyer says that his client's living conditions have improved.
He sleeps in a room with 20 or 30 others," Mr Mo explains. "The guards look after him though; they gave him a thick blanket to place on the floor to sleep on, instead of a wooden board, like the other prisoners."
For months after Pu Zhiqiang was first detained, he was subjected to hours of intense questioning every day.
However, now that part of the investigation seems to have come to an end, leaving Mr Pu with more time to rest.
He spends his time reading whatever books are available in prison, including legal textbooks and the Bible.
In a poetic twist, the most recent book he finished: Gabriel Garcia Marquez's classic novel 100 Years of Solitude.