Occupy gone sour? 'Bomb plot' in Hong Kong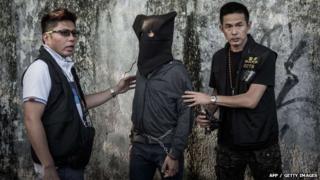 The last time the spectre of bombs exploding on the streets hung over Hong Kong, the city was still a British colony.
In 1967, a labour dispute escalated into protests led by Maoist groups that eventually resulted in 51 deaths and thousands injured.
Some of the deaths were caused by homemade explosives, called 'pineapples' in Cantonese vernacular.
But over the past 50 years, despite major upheavals, Hong Kong has remained an uncommonly safe city, home to people holding diverse political views.
So, the news that police had arrested at least 10 people on suspicion of conspiracy to make bombs, ahead of a key vote at the Legislative Council, has shocked and divided the general public.
The authorities have declined to publicly make a direct link between the suspects and the presentation of the government's political reform package on Wednesday.
They said only that at least one suspect was a member of a 'local radical organisation' and that they were investigating all leads.
But privately they have told some journalists that the suspects belonged to a group calling itself the National Independent Party.
Almost nothing is known about the purported group, but its name suggests one of its goals could be to win independence for Hong Kong from China.
That is an extreme position on the spectrum of Hong Kong's pro-democracy movement.
'Compared to al-Qaeda'
Robert Chow, a well-known pro-Beijing figure, has pointed the finger at the pro-democracy movement's more mainstream leaders.
"Two years ago, somebody suggested we should occupy Central with peace and love. And now things have degenerated into people making bombs," he said.
"Something is seriously wrong. I think the leadership have got to ask, what have they done? They [the suspects] were there supporting the Umbrella movement. Let's not play it down. In other countries, people would be comparing them to al-Qaeda and Islamic State."
But Albert Ho, a veteran democracy campaigner and lawmaker, said Mr Chow's comments were illogical and nonsensical.
"How could he suggest it is related to the Occupy movement? We have always made it very clear that ours is a non-violent movement," he said, referring to last year's largely peaceful Occupy Central movement.
He added it was possible that some fringe groups might have felt "driven" toward violence due to a perceived lack of progress in democratic rights for Hong Kong.
"This is something we cannot accept. But on the other hand, this is a consequence of government policy. Sometimes repression forces people to become extremist. In China, repressive policies in places like Tibet, sometimes forced people to use very extreme action, such as burning themselves, to express anger."
Conspiracy theories
Still others in the pro-democracy movement have expressed scepticism about the so-called National Independent Party.
Writing on a blog, former Hong Kong government adviser Simon Lau addressed some popular conspiracy theories.
Reading about the arrests, he said he was reminded of events during the Cultural Revolution when some people in Inner Mongolia were arbitrarily accused of belonging to a political party that had long ceased to exist.
Nevertheless, he wrote, more than 300,000 people were framed for dissident activities, and more than 10,000 of them were persecuted to death.
"Will the National Independence Party incident become another political movement against social movements and civil society?" he asked.
Police have said they are still investigating the suspects and have little to offer the public.
But the revelation that the city could be harbouring its first violent extremists in decades has already split opinion along predictable political lines.