The Taylor Swift fakes on the Chinese internet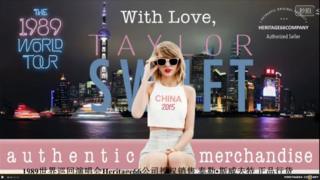 Taylor Swift sits in a white crop top emblazoned with "China 2015" in pink letters.
The scene is a promotional video in which the American pop star calls for people to buy her new authentic merchandise. With a concert in Shanghai in November, she also announced the launch of a fashion line tailored for the Chinese market.
JD.com, one of China's biggest e-commerce companies, will be the first to release this fashion line later this year. It has assured consumers that the products will be authentic and high quality.
Some of the designs might raise eyebrows in China - T.S. 1989 could be mistaken for a reference to the Tiananmen Square massacre of 1989.
But China is home of counterfeits and e-commerce sites are already flush with fake Taylor Swift products. So the question is, if they are already available at much lower prices, do consumers really care? Here's what a quick scan shows.
---
Hundreds of 'Shake it Off's
On Taobao, the e-commerce platform owned by Alibaba, T-shirts with the words "Shake it off", "T.S. 1989" and "Taylor Swift or Die" are on sale for about 40 yuan ($6.5; £4.15).
If you search any of those terms, hundreds of sellers come up - many of them selling shirts, mugs, pen and notebooks with designs from the pop artist of your choice.
Many of the Taylor Swift designs are copied from her US collection which is already available for sale.
Some sellers have a disclaimer in the product description that these are "same style" - to indicate they are copied from the original.
Taobao has been accused of not doing enough to counter users selling fakes on its platform, so this seems a way to try and side-step the legal repercussions.
---
On Taobao it always comes cheaper
At the time of writing the most popular seller had about 90 purchases of the "Shake it off" for 42 yuan.
The odd seller will say their products are "imported", claiming it is an original product imported from the US. But Taobao is where the masses come to buy just about anything at low prices.
Taylor Swift fans will undoubtedly throng to JD.com for authentic merchandise, but the site is known more for electronics and home appliances.
Some on social media questioned why they would pay more for a product that they believe was probably made in China anyway.
JD.com has tried to highlight that it will be the only place to buy real Taylor Swift merchandise.
"JD.com is simply the one and only e-commerce site where shoppers in China can be assured they will get only authentic Taylor Swift products that meet the high quality standards her fans deserve," said Mark McDonald, Chairman of Heritage66 Company, Taylor Swift's Nashville-based partner company that will host her products on JD.com.
---
T.S. 1989: a taboo number
But Taylor Swift could be facing another problem quite apart from counterfeits.
Her third album and world tour are called "1989", the year she was born, but in China the number is taboo as it conjures up the spectre of the brutal massacre of demonstrators in Tiananmen Square.
For decades, the government spared no effort trying to erase this memory from public consciousness and many young Chinese have never even heard of it.
But Taylor Swift's influence could prove provocative and seeing hordes of Chinese teens wearing these T-shirts would be quite a sight for Chinese leaders.
Just last week, pop band Maroon 5 mysteriously cancelled concerts in Shanghai. Many suspected it could have been a consequence of one of its members celebrating the birthday of the Dalai Lama.
---
'Bad luck bad luck'
Internet users on Weibo, China's popular social media site, joked that Taylor Swift has the worst luck. They are worried Taylor Swift's merchandise may raise eyebrows with China's government leaders and cause problems with her concert.
"Sorry you were born on the wrong date," a Weibo user lamented. "She's stepped into a minefield," another said.
One Weibo user posted a few screen grabs from Twitter discussions of Taylor Swift's T.S. 1989 fashion line and wrote: "You all want to make big news out of this and criticise Taylor Swift. Stop it before you destroy Mei Mei's 1989 Shanghai concert! I'm so angry."
"Mei Mei" is a nickname Chinese fans gave Taylor Swift to console her for losing several Grammys to her competitors. It rhythms with "beauty beauty", but means "bad luck bad luck".
Taylor Swift is no stranger to going up against big opponents, having fought giants like Apple Music and gotten what she wanted, but will it work in China?
Even her own fans implore her to be discreet including one that said: "Girl, don't fight so hard please. Rein in your personality in the heavenly kingdom of China. Just focus on singing."