What is China trying to prove with military parade?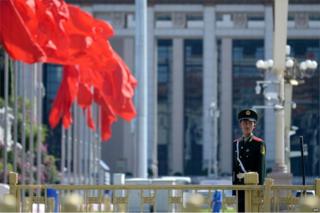 Imagine a parade showing off China's most recent global accomplishments, highlighting the progress made in the 70 years since World War Two.
Perhaps the scientists who designed China's lunar rover could lead the way. Earlier this year, Chinese researchers unveiled the first new discoveries about the Moon to be made in decades.
Next in our imaginary parade: Liu Cixin, the Chinese author who just won the prestigious international Hugo prize for science fiction.
Then, Tolein, the first Chinese DJ with two hits in the UK's top 10 club charts.
Rounding out the back: Guo Pei, the Beijing designer who spent two years creating the gown that starred in New York's fashion event of the year, the Met Ball.
But instead this week, we'll see a far different image of China: one that shuns creativity and innovation in favour of uniformity and obedience.
Strict control
Soldiers have worn through 16,000 pairs of shoes after spending months practising their goosesteps, the state media report. Many gripped chopsticks between their teeth in order to master the military's "standard smile", often snapping them in two.
It seems that nothing has been left to chance. Chinese-built satellites will guide the parade's 12,000 participants, ensuring they don't stray more than a few centimetres from their correct spots.
Elements that can't be strictly controlled, including most of China's 1.3 billion people, have been barred from the parade route altogether.
Those living in the vicinity received strict warnings to stay away from their windows.
Those living near the parade's centre stage, in Tiananmen Square, have been told they can't cook for days before the parade, in case a fire detracts from the proceedings.
Not to mention tens of thousands of factories, shut down weeks ago in an effort to guarantee clean air.
Most will have little to do over the war anniversary but watch the television coverage. For five days, state television will stop its usual run of reality television shows and soap operas in favour of anti-Japanese war dramas.
"I have a deep understanding of fascism now, by observing this anniversary of the victory against the fascists," one Chinese internet user wryly observed.
'Friendly global power'
So, by going to such great lengths to project an image of strength and uniformity, what is China trying to prove?
The world must remember the suffering and the sacrifices China made during WW2, China's state media have said.
But the military parade is also making a point about China's current place in the world too.
"China was at its weakest in history when it was scourged by WW2," an editorial in the state-run Global Times newspaper said. "But 70 years later it has grown into a miraculous global power."
It's a global power with friendly intentions, Beijing insists.
The parade "will help remind all kind-hearted people of the aspiration and pursuit for peace", China's foreign ministry spokesman Hua Chunying explains. It will "safeguard the outcomes of WW2 in pursuit of a more beautiful future of all human beings".
China's regional rivals don't seem to agree.
Delegations from 51 countries were invited to attend the parade, and Japan and the Philippines opted against sending anyone. Leaders of major Western countries will also be absent from the viewing stands in Tiananmen Square.
"Thousands of British servicemen died in WW2 in Asia and it's right that we commemorate that, " UK Foreign Secretary Philip Hammond said on a trip to China in August.
But then he added: "We are not huge fans of military parades, showing off shining new aggressive equipment, in general."
So, are China's actions peaceful, as the foreign ministry maintains, or are they aggressive?
Japan is often cited as a key target of the parade's message. Frosty relations between Beijing and Tokyo hinge on disputes over Japan's contentious wartime record and territorial claims in the East China Sea.
It's no mistake that the official name for the parade spells out China's "resistance against Japanese aggression".
But there's a wider global objective too, some maintain.
"I think the most important thing is reasserting nuclear deterrence and that's a message for the United States," explains Mathieu Duchatel, head of the China and Global Security Project with the Stockholm International Peace Research Institute. "China does not have many occasions to assert the state of its nuclear arsenal."
New ballistic missiles are expected to star in the parade, including the DF-41, a long-range missile that can carry multiple warheads, capable of hitting any target in the US.
'Shoring up authority'
Global messages aside, the parade comes at a sensitive time in Chinese domestic politics too.
In the past month, the country has been rocked by chemical explosions in the port city of Tianjin, and the swift decline of its main stock markets. Both can be blamed, in part, on government incompetence.
"Frankly speaking, the new leader wants to shore up his authority," says Shanghai-based military commentator Zhao Chu, referring to Xi Jinping. "He is giving an explicit signal to the domestic audience that he has a stronger grip over the military than his predecessors."
Two of the military's senior generals, men who sat on the all-powerful Central Military Commission, have already been sacked for corruption. Mr Xi is keen to reassert his position at the top of the pile.
What China's communist leader can't do, however, is convince all of his citizens that the pomp and pageantry of the parade is worth all the hassle.
"If they're going to close the local hospitals," one internet user grumbled. "The least they can do is to eliminate all illnesses too."