China blog: Who is Xi Dada?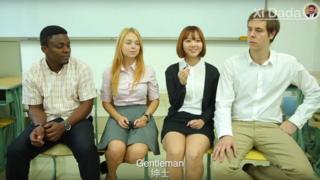 "If my husband is like him, I will be happy," proclaims one girl.
"His face is a bit cute," explains a young man. "Everybody looks at him and they just like him."
It might appear as if they're talking about a teen pop star, but actually, they're praising Chinese President Xi Jinping.
Even in a country that's experienced in producing feel-good propaganda, a video made by a major state newspaper reaches new highs of sickly sweetness.
"Who is Xi Dada?" was created by the People's Daily, often described as a "mouthpiece" of the Communist Party.
The video itself is a list of compliments from doe-eyed foreign students who appear to be studying in Beijing. President Xi is described by the students as "a wise and resolute president", "super charismatic" and "not only a businessman, but also a family man".
The video was first posted on YouTube and Twitter, both of which are blocked inside China. Hours later, a subtitled version was posted on the People's Daily mobile site.
Commentators didn't appear to be impressed by the comments. "How much were they paid?" grumbled one viewer, referring to the students.
Media outlets in both China and the United States have issued a slew of serious stories examining the symbolism and importance of Xi Jinping's state visit to Washington, with some fairly critical US comment.
Among those stories, the People's Daily video stands apart.