Did Taiwan fans give Bon Jovi a bad name in China?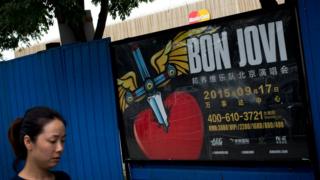 Rocking a Chinese stadium has been Jon Bon Jovi's dream for a long time, but earlier this month Chinese authorities abruptly cancelled the American rock singer's China tour dates, reportedly because he featured the Dalai Lama in previous concerts.
Sources have told the BBC that Taiwanese fans had sent the Chinese authorities pictures of those concerts, showing Bon Jovi singing on stage with images of the Tibetan spiritual leader as the backdrop.
The move, it appears, was part of a concerted campaign aimed at getting Bon Jovi's China tour scuttled so that he could play more shows in Taiwan. Indeed, shortly after Beijing and Shanghai dates were cancelled, he hastily added one more date for Taipei.
Wanted in Taiwan, dead or alive
Fans were apparently inspired by American rock band Maroon 5's experience with China. When Beijing recently cancelled their shows after one band member tweeted "Happy Birthday" to the Dalai Lama, the organiser added a concert in Taipei to recoup losses.
Taiwanese Bon Jovi fans were desperate. The band had scheduled only one concert in Taiwan on its Asia tour and tickets had sold out on the first day.
Richie Lin, the leader of Taiwan's biggest Bon Jovi fan club, told the BBC: "I had heard of the news that Maroon 5's concerts in China had been cancelled, then I told everyone that [getting China concerts cancelled] could be a way for us to add a Bon Jovi concert here.
"We used Maroon 5's cancellation as a way to win an extra [Bon Jovi] show here."
Mr Lin refused to say what tactics fans used. But the BBC understands some fans directly emailed Chinese government agencies pictures of Bon Jovi's past concerts.
Giving love a bad name
Of course, nobody knows how big a part their campaign played in influencing the Chinese authorities' decision. But at the heart of this is the love triangle between Taiwanese fans, Bon Jovi, and China.
Lovelorn Taiwanese fans have been jealous over Bon Jovi's keenness to woo Beijing.
For years the band has tried to tap into China, and Jon Bon Jovi recently even learned how to sing one of the best-known songs in Chinese culture, The Moon Represents My Heart.
Meanwhile Bon Jovi has bypassed Taiwan for 20 years, forcing fans to fly elsewhere to see them perform live. Jon Bon Jovi's song was the final straw: he dedicated it to China - but it's a song popularised by Taiwanese singer Teresa Teng.
"He should dedicate this song to Taiwan, because it's the Taiwanese people's song," said Mr Lin, who named himself Richie after Bon Jovi's former guitarist Richie Sambora. He estimates he's watched the band's music videos 1,000 times from the time he was a teenager, and he's crossed oceans to attend the concerts.
Perhaps the lessons Taiwanese fans want to teach Bon Jovi are: don't be blinded by money; don't forget your first love in greater China - Taiwan; and get it right by singing The Moon Represents My Heart for the Taiwanese.
"I feel so excited watching him practice that song in the recording studio video," said Amanda Chang, who along with many fans hopes he will sing the song at the Taipei concerts on 28 and 29 September.
"It doesn't matter that his pronunciation is a bit off or if he forgets the lyrics on stage. We'll sing it with him!"
Bon Jovi have been jilted by China - and Taiwanese fans are thrilled. Love is not a bed of roses.